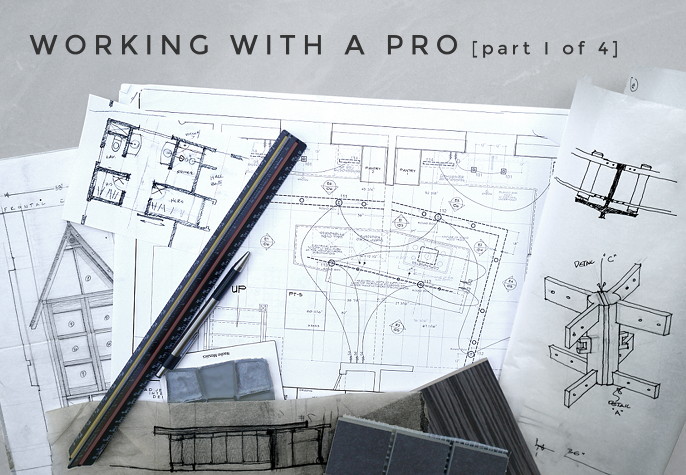 Welcome to part 1 of the "WORKING WITH A PRO" series.  A 4 part string of posts created to demystify the designer-client relationship. We will explore the what, why, how much, & where to start when working with a professional interior designer. In part 1 we will explore the most common question asked by new prospective clients: "What exactly does an interior designer do?"
While much of what we do can be inferred from our title, many prospective clients are unaware of the depth of tasks performed by a "full service" designer. For simplicity's sake, I'm going to list many of these services in outline form below. Each task is roughly itemized in the order that it may occur in your project. The subsequent articles in this series will explore much of this in greater detail. The list is long; so I will try to keep it simple!
Interior design service offerings:
Programming [Phase I]
Client interview. This meeting will determine the project scope, wish list, needs & preferences. Visual aids help create a baseline of the client's tastes.
Theme, concept & program development. Here we frame a project outline based on the client interview, current site and related research.
Document & evaluate the project site. At this stage the existing job site is carefully measured and recorded in a CAD drawing. The site is assessed in terms of the new project program formed in the previous step.
Assess existing elements for re-use in the project. The client may wish to use existing furnishings in the new design. Or the project site may contain an element that will be re-used such as a fireplace or a water feature. At this stage we will evaluate these items along with building systems such as HVAC, plumbing & electrical.
Budget analysis. In this phase we create a detailed table of likely project costs and set a rough budget. We update the table regularly to reflect actual quotes as presented.
Project timeline development. Here we will be creating and updating our project schedule.
Coordination with other professionals. Your project may require the services of other pros such as architects, engineers, landscape designers, etc. For simplicity sake, the client may wish to manage all pros through this office.
Code review. At this stage we evaluate the project for building code compliance, life safety & ADA concerns.
Environmental impact. Here we consider the project in terms of sustainability, energy efficiency and the project's connection to the environment.
Design [Phase II]
Schematic design. In this phase we explore broad concepts and spatial associations in sketch form.
Space planning. In this phase we organize furniture and spatial functions to work in sync while using the space efficiently.
Interior design. Here we refine the prior 2 steps and add an aesthetic component.
Exterior design. At this point we form the overall aesthetic feel for the outside of the building. We take a hard look at window & door placements & design, material selections, etc. and how they relate to the interior.
Lighting design. At this stage we formulate how natural light along with direct, indirect and accent light sources will relate to the project space.
Custom fixture, furniture & millwork design. Now we are into the small details. My favorite part! Here we will be designing anything from a steel light fixture all the way to a concrete shower bench and anything in between.
Architectural detailing. This task includes the design of trim level details. Both interior and exterior. For example; a steel stair system with cable railing would fall under this heading.
Visual aids. 3D color renderings, models, line drawings & sketches will be produced at this stage.
Specification [Phase III]
Color, material & finish specification. Here we will look in depth at project colors and material options. We will look at everything from paint color, wood, tile, stone & fabric choices all the way to the level of sheen chosen for our cabinet finishes.
Furniture selection. Just as the title implies, here we will evaluate and choose all of the furnishings for the project.
Equipment, fixture & appliance selection. This task has to do with the research and proposal of durable goods based on the client's needs, support of the design goal and product ratings. These items range anywhere from a cooktop or built-in wall heater all the way to things like a tub filler or wall mount faucet.
Lighting fixture selections. At this stage we will look at lighting options that will correctly perform the many features of our lighting plan while fitting within the project theme.
Artwork & Accessory advice. Offered at request of the client and may include help with choosing, framing, shipping, storage and appraisals.
Documentation [Phase IV]
Construction drawings. At this stage we draw plans, elevations, sections, details, etc. Basically all of the visual instructions needed to build the project. The drawings ensure the contractor and subs will build exactly what we want, they are the backbone of our contract documents.
Shop drawings. Created for furniture, fixtures, millwork, and all uniquely designed parts of the project. These drawings tend to be large scale and detail focused. Shop drawings usually pertain to components produced off-site.
Schedules. Here we create a detailed table that states all lighting, doors, hardware, fixtures, and equipment for the project. We outline all kinds of info like; manufacturer, model number, finish, size, quantity and etc.
Bidding documents. The package of info supplied to each contractor, vendor and sub with the aim of obtaining cost quotes.
Contract documents. The binding documents that define the timing, quality, scope & cost of work for each contractor, vendor and sub hired to work on the project.
Project Management [Phase V]
Vendor, contractor & sub qualification is performed at this stage. We interview each bid candidate and check references. We create our bid list at this point.
Bidding, bid review & contractor selection. This area can be tricky to navigate and requires a bit of "street smarts", feel free to lean heavily on your designer here!
Permits. At this stage we obtain municipal building permits and navigate regulatory groups such as condo associations and review boards.
Expediting. Never fails! Every project suffers the one thing that goes wrong and could potentially hold the whole job up. We skillfully handle any time-sensitive issues and put things back on track.
Procurement & purchasing. This phase deals with the negotiation of fair pricing and in some cases setting up wholesale accounts for all owner purchased project goods.
Project scheduling & coordination. We update and adjust the construction schedule on a daily or weekly basis as needed.
Management of contractors & trades. Ever wonder what it would be like to herd cats? Need I say more?
Quality inspections. At this step we gauge the build quality on the job. Making sure that architectural and trade association norms have been followed.
Progress payments. As the title implies; here we determine when to make progress payments based on the percentage of completion and as outlined in the contract documents.
Project Closeout. Here we will inspect the finished work and submit a final punch list to each contractor. The client will make final payments on satisfactory completion. Each contractor signs a release with final payment.
Ouch! That's a long list.
The good news is that you, the client, may select as many or as few of these services that you require. Some clients hire a designer to fully adopt their project. Designing and managing all imaginable aspects of the undertaking. On the other end of that spectrum you have the DIY client who only wishes the designer to act as a sounding board. Most clients fall somewhere in between these extremes. Rest assured there is an appropriate mix of services for most projects and budgets. Contact me to discuss your project, I love to talk design! As always – our first meeting or phone call comes with no obligation.
Don't miss the next article in the series: WHY HIRE AN INTERIOR DESIGNER? I will elaborate on many of the items in the above list and give some real-world examples of how they might apply to your project. Use the sign up form in the sidebar to have the article delivered to your inbox as soon as it comes out!