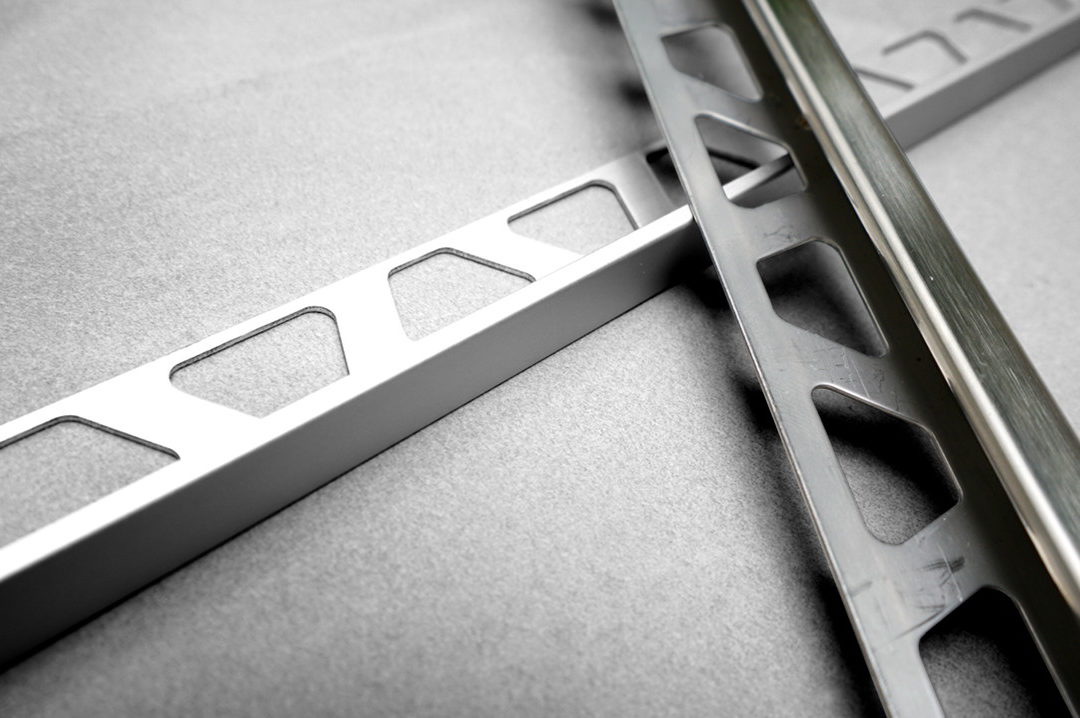 Above left: JOLLY 10mm in satin anodized aluminum. Right: RONDEC 12.5mm in brushed stainless steel.
SCHLUTER TILE EDGE TRIM
"What the %*@# Is Schluter?" is the common question that I have been asked by 3 of the 8 people that read the Backsplash Backstory post. All of whom are my buddies. I am basically still writing to myself after 4 months at this experimental blog thing. The expletive used by each buddy seemed to cover a wide range of colorfulness; all proud members of the 4 letter genre. Most of my close friends work in the trades or are artisans who command a great understanding of expletive use. Don't get me wrong, I am also a skilled expletive user. I can even say that I enjoy a good expletive rich conversation now and again.
All kidding aside; this blog writing exercise has been both enjoyable and informative. I find it interesting how writing about things you do every day can really refine your thoughts. I recently overheard my son's ACT tutor explain how simple activities like having an in-depth conversation about a subject can dramatically increase your grasp of the material. He went on to further point out how writing the subject material down in your own words can greatly organize and reinforce your understanding. I am a firm believer of this now. I have found that writing these short posts has shed a different light on things that I deal with every day.
Our tutor's genius ended there. He suggested that my son have frequent conversations with his sister about the ACT subject matter. He obviously doesn't understand the typical teenage brother-sister relationship. My son and daughter can't even pass the salad bowl to each other without a pissing match. My kids are 16 months apart. Many of you know exactly what I am talking about!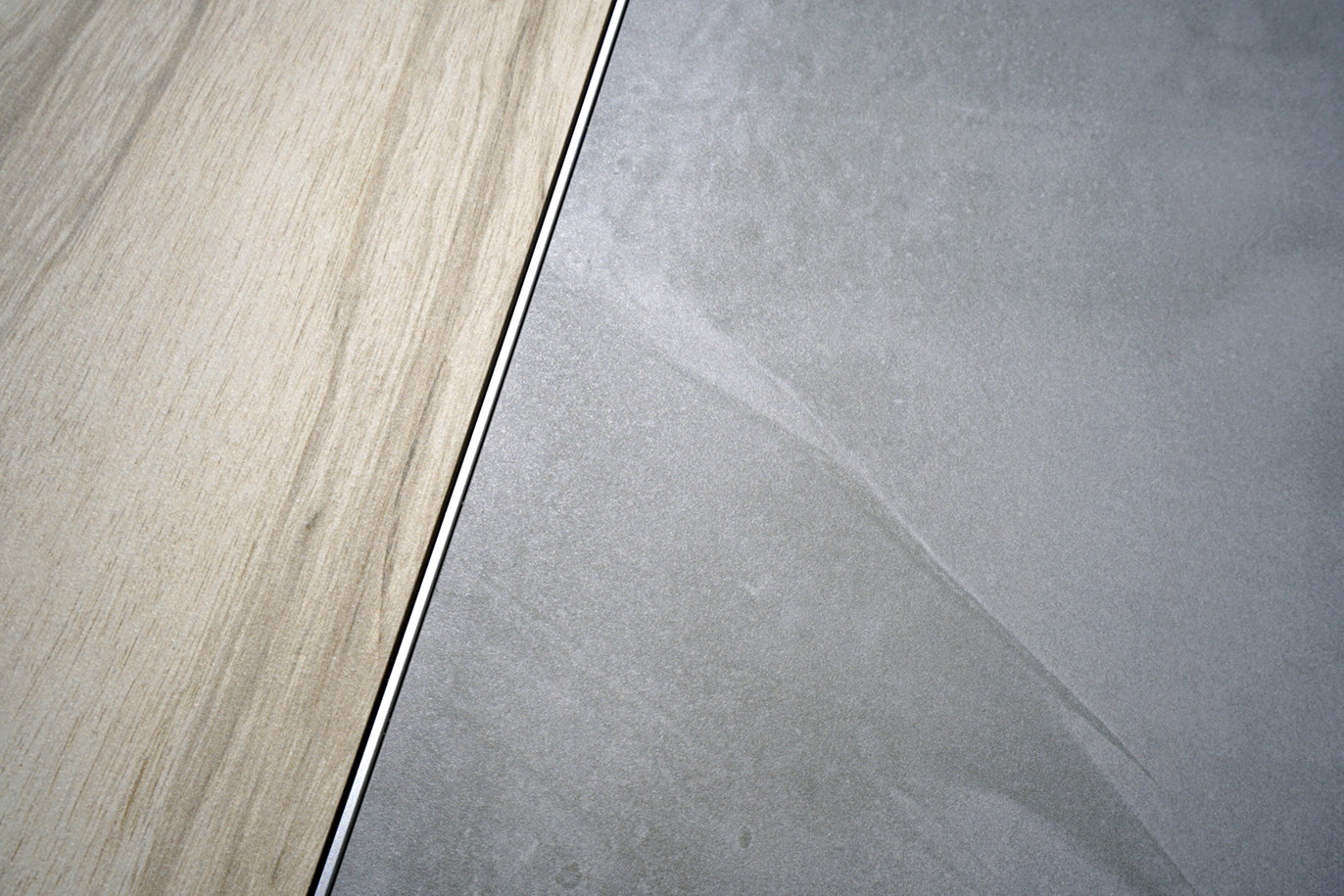 Above: Schluter JOLLY 10mm in satin anodized aluminum.
WARNING: Read no further unless you are a total design geek
OK so what the %*@# Is Schluter? Schluter manufactures a variety of ceramic tile accessory and installation products. In particular this post is referring to their tile edge trim material. If you are into clean and simple lines, as am I, you will definitely appreciate this alternative method of finishing off your wall tile runs. Schluter is likewise great for edging tile steps or any other transition from tile to another material. The tile edge profiles are made of aluminum or stainless steel and come in a whole host of finishes and colors. The metal edging will protect your tile installation from foot traffic and other damage. The profiles are incredibly easy to use as they cut with a chop saw or hacksaw and are installed in the setting bed with the tile.
I have never been a fan of battiscopa or bullnose trim pieces to end a tile run or to transition to other materials. Many times the smaller transition trim tiles will interrupt the visual flow of a tile surface. The smaller bullnose tile pieces are especially annoying when used to end or transition a surface of large format tile. The whole appeal of the large format tile is in the lack of grout lines, bullnose transition tiles will muddy the look. Furthermore, mosaic tile wall surfaces will benefit from the simplicity of a Schluter termination as it will not interrupt the inherent beauty of the intricate surface. The 1/8" wide JOLLY profile is my favorite for many applications especially mosaic backsplash material. Finally, Schluter can add a fun and subtle element that will coordinate handsomely with your bath hardware or your stainless steel appliances.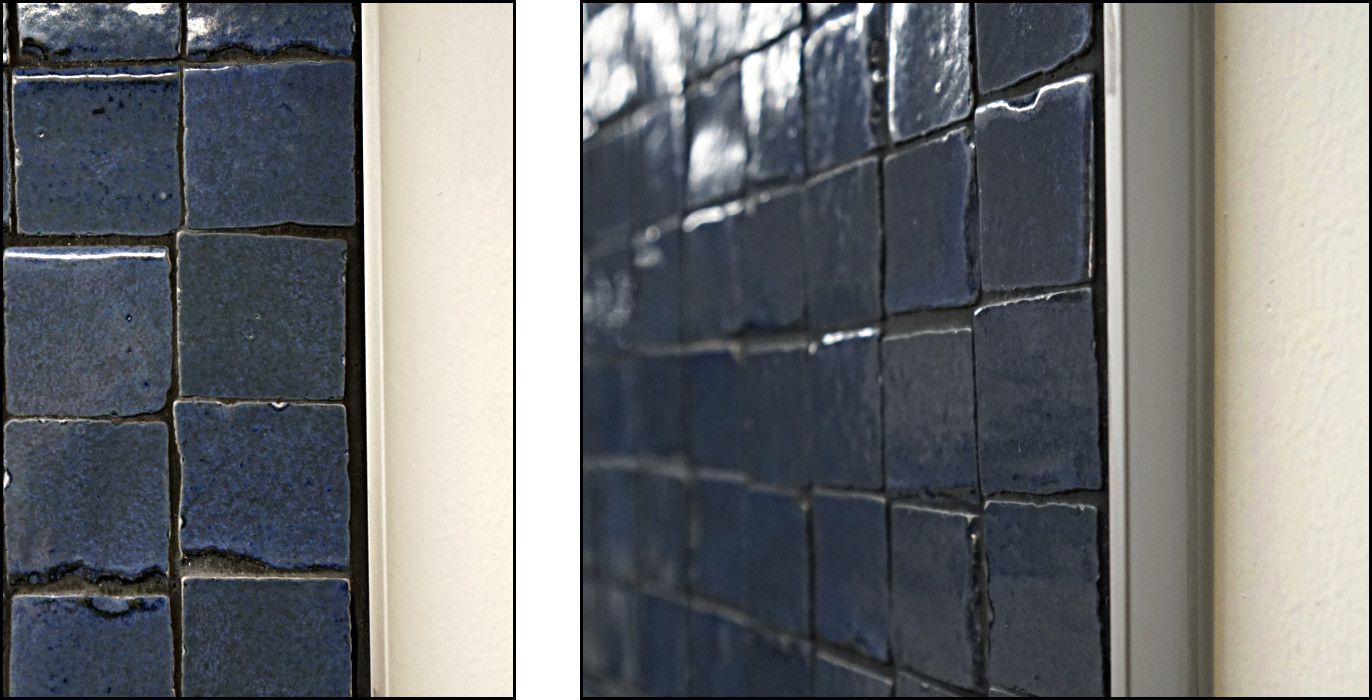 Above: Schluter JOLLY 8mm in satin anodized aluminum.
Here's' the note:
I don't know why there always seems to be a note! When doing a floor tile project I would highly recommend the use of an uncoupling membrane like Schluter's DITRA product. This method will virtually eliminate the possibility of eventual cracks in your tile installation. This is especially true and necessary when installing large format tile. The DITRA product will separate the tile floor system from the structure. Small structural movements will not affect the integrity your floor.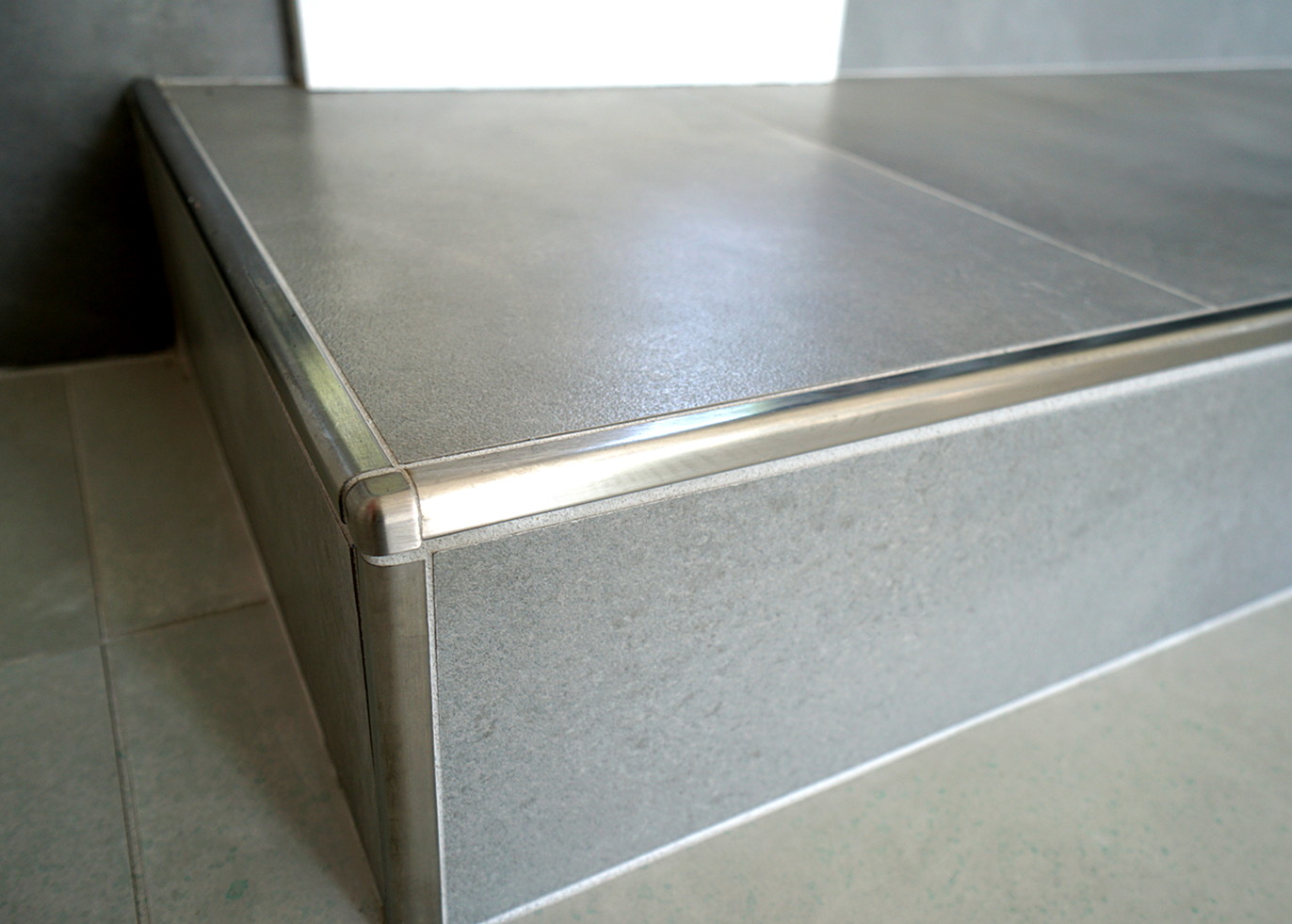 Above: Schluter RONDEC 12.5mm in brushed stainless steel with 90 degree outside corner.
Have fun, explore the many Schluter options. Keep in mind there are other successful transitioning solutions like custom made wood trim depending on your overall design concept. The wood trim option is a good one if you have a room full of custom cabinetry and trim details. An example is here, scroll down to the half bath picture. I would lastly add that Schluter has been the best option for about 75% of my projects and it is both easy to use and economical.
Read the antecedent to this post: Backsplash Backstory