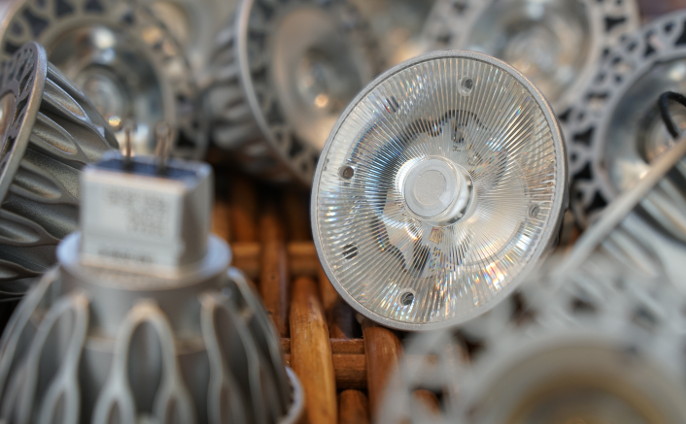 This prompt, laid-back, pictorial guide will easily clarify the 4 most common technical characteristics you need to know when selecting an LED lightbulb. This post focuses on the MR16 format; however, many of the traits are common across numerous types of light sources.
Skip to the pictures below if you are short on time; they will quickly arm you with the data needed to make an informed LED choice.
Read on if you want a more in-depth exploration
Never fails! Your interior project has been complete for a few years and you have been enjoying all of that high-end lighting. Lighting specifically designed to meld with your lifestyle. You love your environment! So when bulbs start going you become a little overwhelmed when you see how much technical knowledge is needed to choose LED replacements. Assuming, of course, you are making the switch from halogen MR16 bulbs to the LED variety.
This post is a moving target because LED technology seems to evolve at the speed of light. A short while ago we would not even be having this conversation as the light quality of LED MR16 replacements was totally sub-par. I would not have specified them. We are well beyond that now and LED technology has finally come full circle.
WHY FOCUS ON THE MR16? In my world the MR16 is the most common high-end light source out there. The bulb is utilized in every conceivable type of fixture; frequently seen in recessed lighting, track system heads, landscape fixtures, etc., etc. Through the years I have specified the halogen MR16 more than any other type of light source. Nowadays, with the current available technologies, I exclusively specify LED versions of the MR16.
OK, so you browsed online to find some replacement bulbs. You quickly discover a whole host of different options. Seemingly limitless combinations of attributes you know nothing about! Below are the 4 most important technical characteristics to focus on: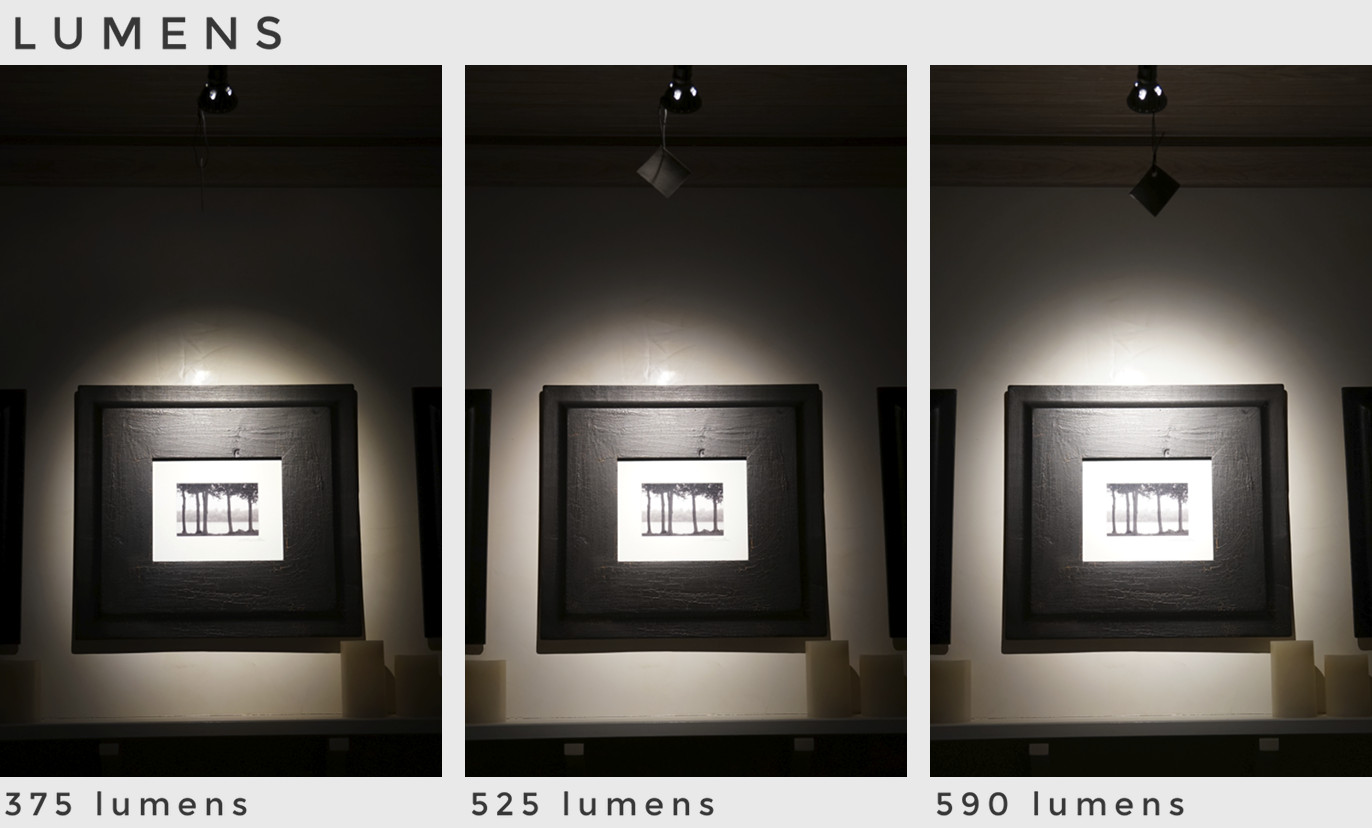 SORAA bulbs: [SM16-06-25D-830-03], [SM16-07-25D-830-03], [SM16-09-25D-830-03]
LUMENS:
Lumens measure the amount of light produced by a light source, the higher the lumens the more light the bulb will produce. In the past we have primarily used wattage as the indicator of light intensity. We need to move away from this thinking and learn to embrace the lumen as the indicator of intensity as we adopt LED lighting. As for some real-world examples: I would typically choose a bulb with high lumens (600ish) for task lighting like in a desk lamp or over a kitchen sink.  For general recessed lighting I would recommend bulbs at around 475 lumens. Finally, I would choose a lower lumen light (375ish) for accent track lighting. Especially if the track has multiple heads directed toward the same area.1
SORAA bulbs: [SM16-07-25D-927-03], [SM16-07-25D-930-03], [SM16-07-25D-950-03]
COLOR TEMP:
The color temperature [measured in Kelvin] describes the hue of light emitted from a bulb. A lower color temperature will result in a warmer light [yellowish or reddish] while a higher temperature emits cooler light [blueish or white]. It's a little counterintuitive that the higher the color temp the cooler the light. I am very partial to 3000k lamping with warm white qualities. The crispness of the 3000k color is not overpowering and has just the right balance of warmth for my modern interiors [IMHO]. On the other hand for a dark and moody restaurant with a lot of wood tones I might specify a lamp with a low color temp [2700 or lower] to enrich the warm woods. Tip: the reddish grain of natural cherry wood is greatly enhanced by warm light.2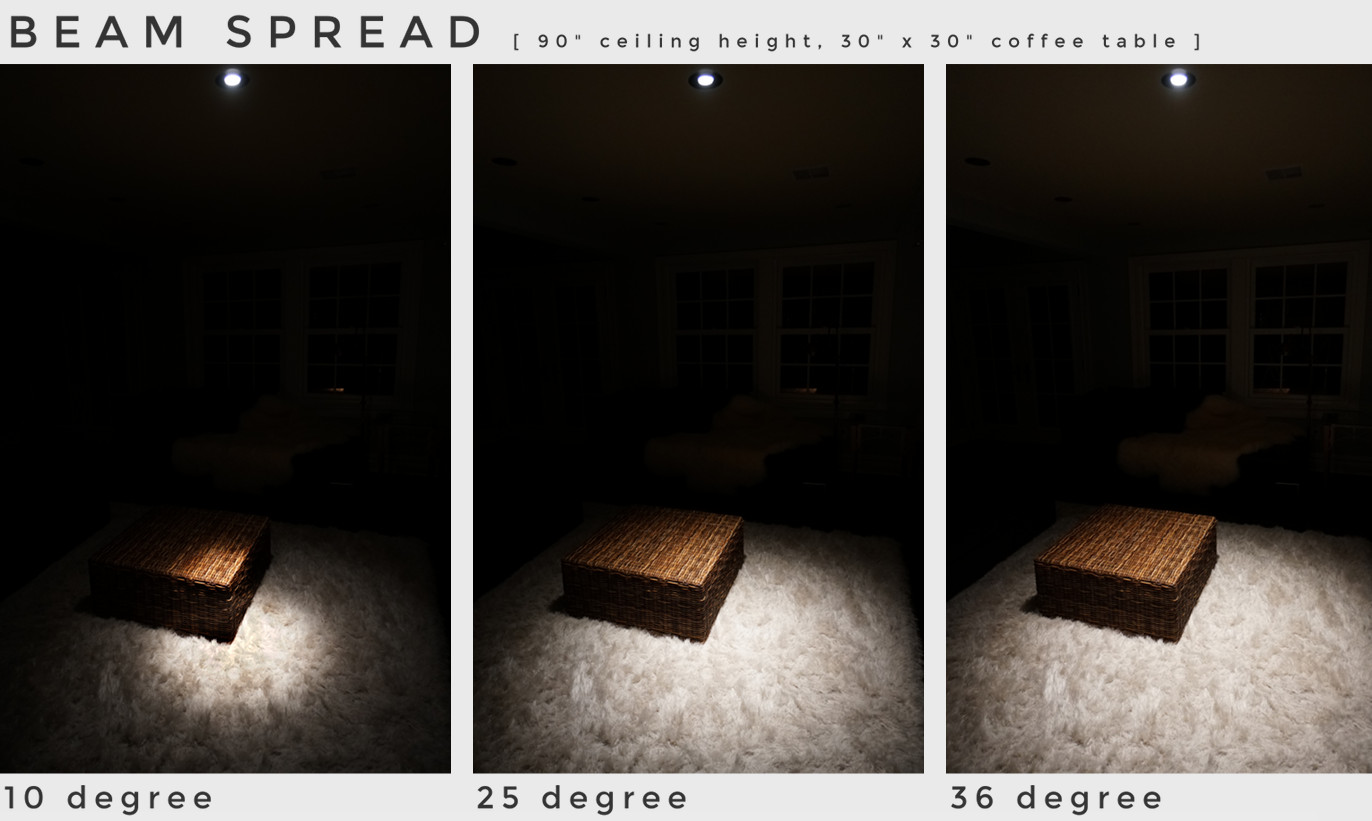 SORAA bulbs: [SM16-07-10D-930-03], [SM16-07-25D-930-03], [SM16-07-36D-930-03]
BEAM SPREAD:
This is usually designated in degrees and will range from narrow spot all the way to wide flood. Beam spread is rather self-explanatory. A 36 degree flood is great for recessed lighting and will illuminate a large area. While a 10 degree spot would be a good choice to light a piece of artwork. Some designations are in terms of a letter code such as FL for 32-45 degree flood. Charts describing the letter code system are widely available online.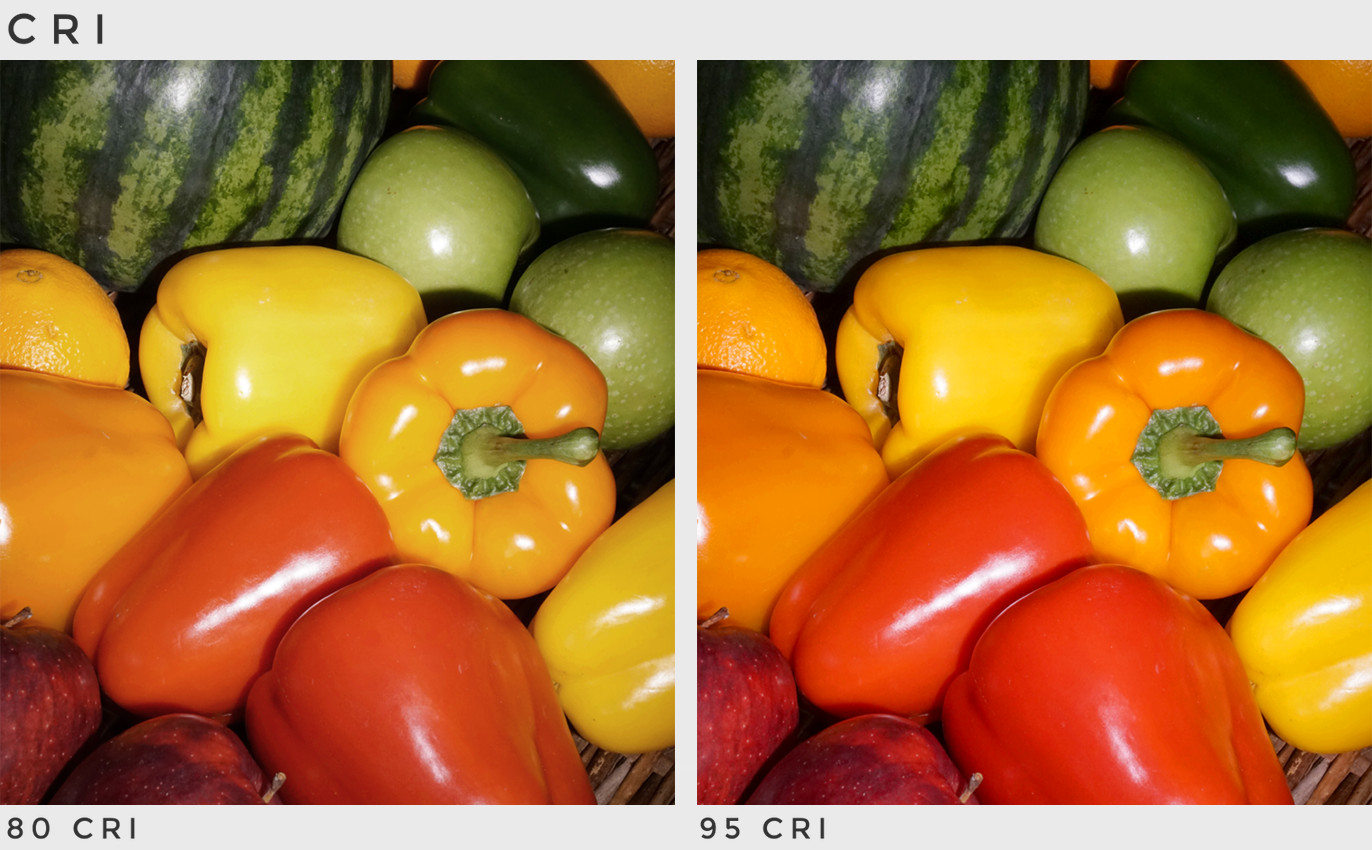 SORAA bulbs: [SM16-07-25D-830-03], [SM16-07-25D-930-03]
CRI:
The Color Rendering Index is a scale from 0-100 that measures how accurately the light source can render color. The higher the CRI # the more accurate the color of the lighted object is represented. When color rendering is critical go with the 95+. As a rule of thumb, always specify the highest CRI available when the source will illuminate colorful artwork. Otherwise stick with the lower CRI bulbs [about 80 CRI] as they are generally more efficient in terms of lumens per watt of power consumption.3
There you have it. The basic knowledge you need to know before you select an LED MR16. All nicely simplified in picture form. Of course, there are some other technical characteristics that we didn't get into like CBCP [center beam candlepower], wattage or R9. I will leave those discussions for another time. You have the important info now. Here comes the disclaimer; "read no further unless you are a total design geek". Technical & geeky trivia ahead!
A Little More Background on the halogen MR16
THE HALOGEN MR16 has been around since the mid-60s and was first developed as a projector lamp. The bulb quickly became popular because of its versatility and compact size. Plus; the bulbs are capable of producing the crisp bright white light that many designers covet. The "MR", which stands for "multifaceted reflector", speaks of the directional reflector built around each bulb. The reflector allows for precise beam control; from narrow spots to wide floods. The "16" numeral refers to the diameter of the lamp in 1/8" increments – 16/8 or 2" diameter. Most MR16 bulbs operate on low voltage and require the use of a transformer. The typical bulb life is somewhere between 2000 – 10,000 hours.4
The big downside to the halogen MR16 is the extreme heat it produces. The heat can sometimes cause installation issues. Care must be exercised to make sure the extremely hot fixture does not contact anything flammable. Many recessed type fixtures for use in insulated ceilings have large unruly protective housings designed to isolate the heat. The giant insulation housings can greatly complicate your installation. The bulbs have been known to explode on occasion, adding one more check to the list of cons. Another downside is the significant drop [warmer] in color temperature when the bulb is dimmed. Finally, the halogen bulb can emit some undesirable ultraviolet light. The LED MR16 has defeated many of the above issues.4
The LED MR16 brings plenty to the table
THE LED MR16: First off these bulbs usually don't have noticeable directional reflectors like their predecessors. Except for the 10 degree bulb, it has a mirrored reflector. In most cases the beam spread comes from the LED itself or from the small clear housing that covers the LED. They are the same shape as conventional MR16s for sake of compatibility. The large reflector looking body actually functions as a heat sink. Leading to the first pro; these bulbs operate at a relatively low temperature. The lower heat generally equates to smaller fixture housings imparting greater installation flexibility. Consider another pro: you have a track system that runs off a 250 watt transformer. The track system can power a maximum of 4 heads with 50 watt halogen bulbs. Now you switch to LED bulbs. Your replacement bulbs are in the neighborhood of 9 watts each. You easily have the available wattage to add more heads if you want and yes, energy savings can be big when making the switch to LED! How about bulb life? Somewhere between 35,000 – 50,000 hours! You may never have to replace another bulb in your lifetime. CHEERS!
read more about lighting here
Sources
2Wikipedia – Color Temperature
3Wikipedia – Color Rendering Index
4Wikipedia – Multifaceted Reflector