FLORHAM PARK PHASE II: An avid amateur chef asked me to create this modern concrete kitchen. The social aspect of creating a meal was the principal consideration in the design. This client loves to create meals while entertaining friends & family. That's why we created the huge concrete island. The island is the hub of activity in this kitchen. I have grown fond of the term "social island" and this is the textbook example. The pork-chop shaped island enables multiple concurrent activities while maintaining an immersive social dynamic.
Modern Concrete Kitchen
Photo above: Two primary sources form the minimalist island lighting. First is the general illumination provided by the MP Lighting track systems. The second is the subtle mood light created by the four pendants from Tango Lighting. A nice color pop emanates from the Bontempi red leather counter stools.
Click here to read blog posts relating to the Florham Park project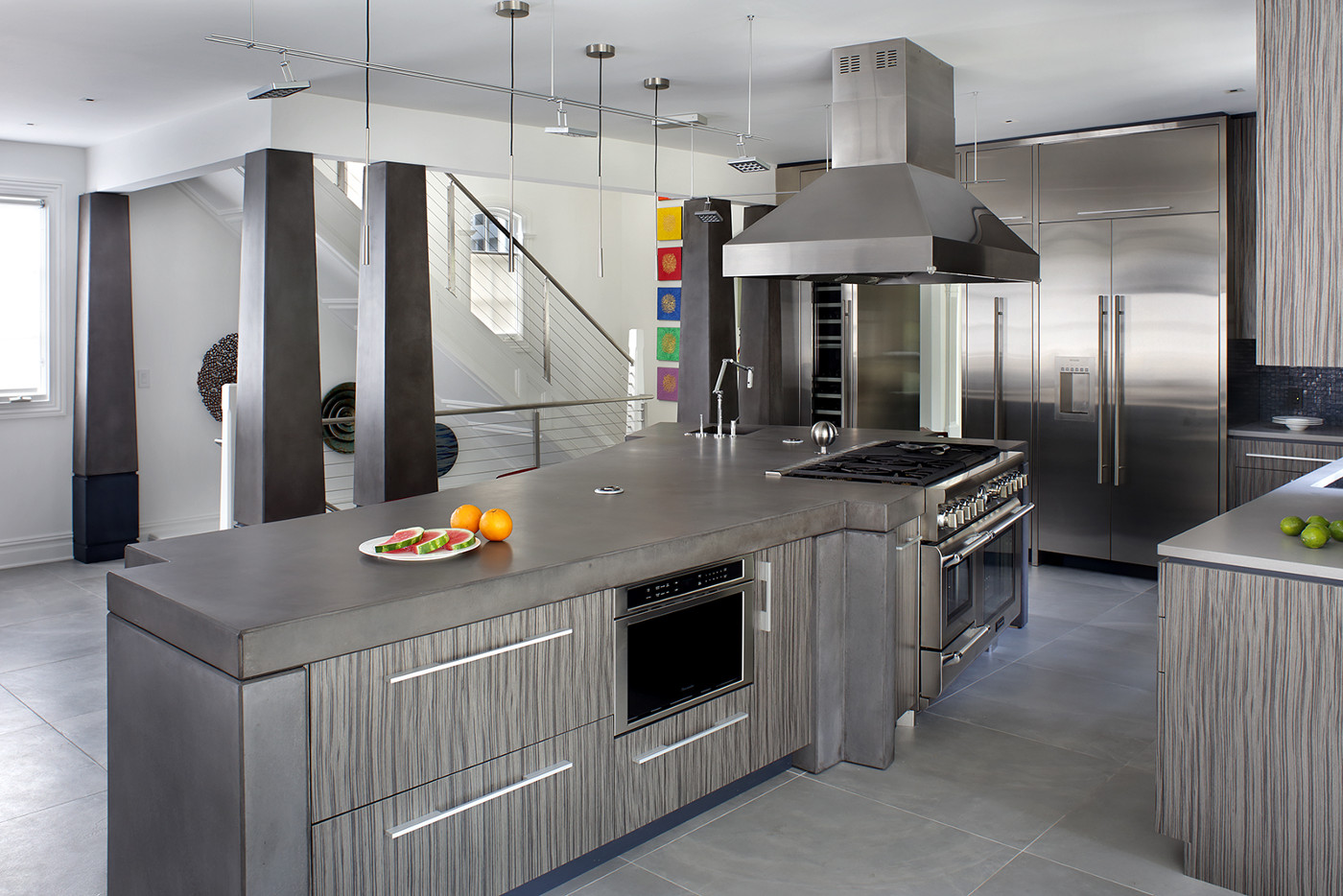 Above: Our pork-chop shaped island has loads of storage along each side and at the bar end. A restaurant quality exhaust hood from Proline ensures great ventilation. The custom made stainless steel refrigeration wall contains multiple temperature zones for food and wine storage.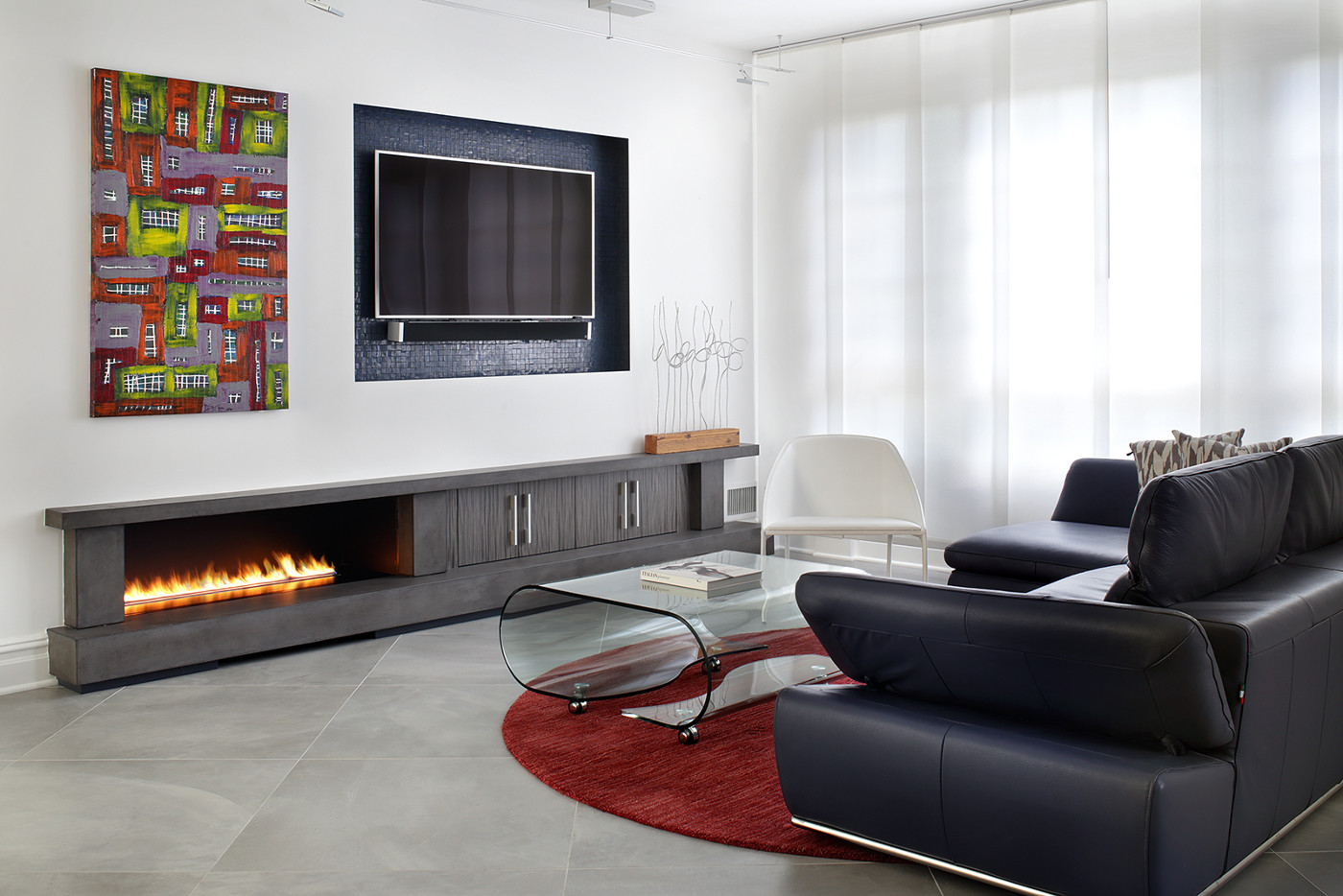 Photo above: This cozy seating environment is adjacent to the kitchen and features a vent free fire ribbon fireplace from Spark. Five concrete pieces make up the strikingly minimal fireplace surround. The flat screen TV is set into a knife-edge wall niche that is lined with mosaic tile. Note the colorful art created by the client that truly completes the space.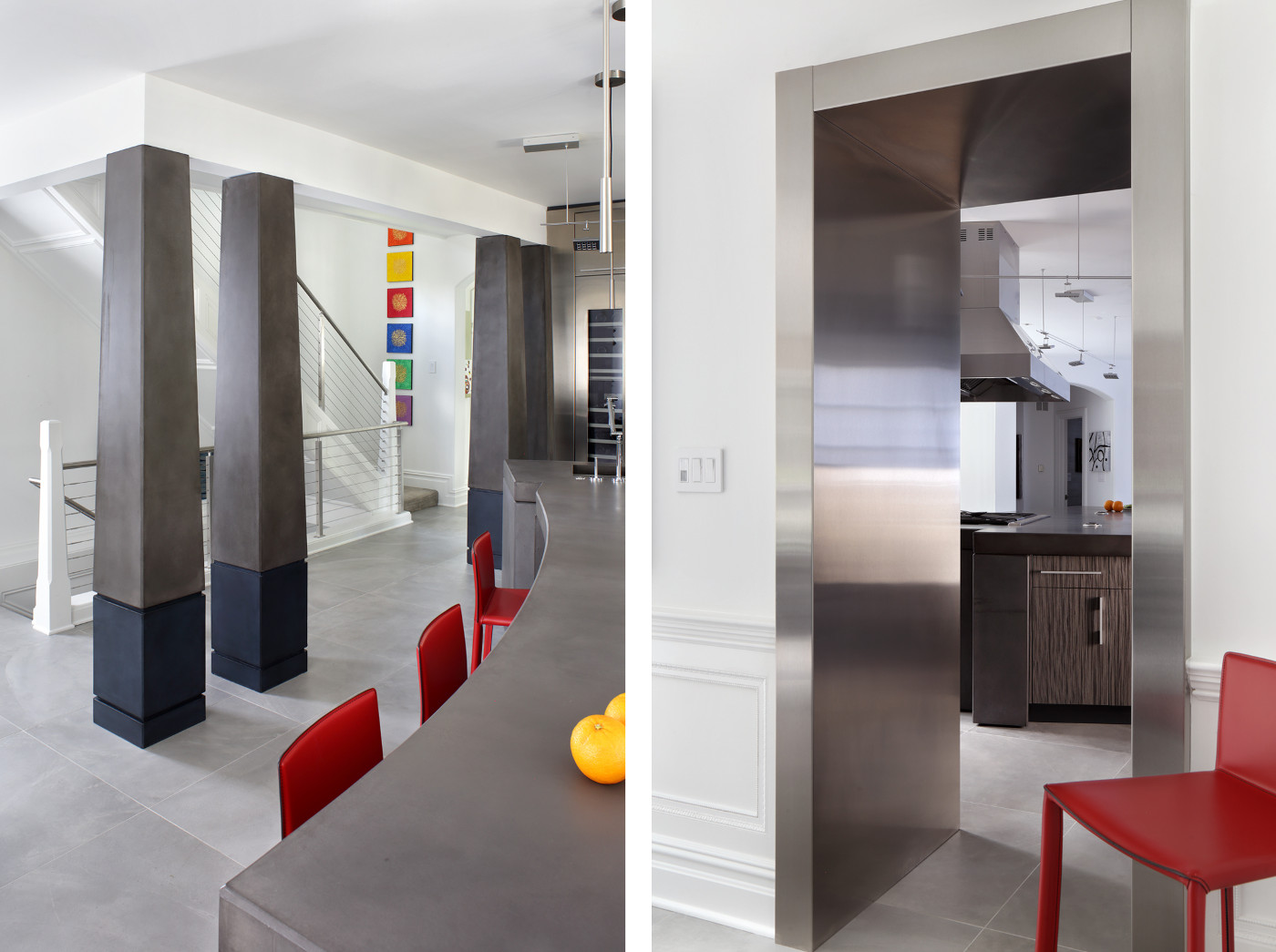 Above left: An appealing shot of the concrete column covers created by JM Lifestyles. Right: The stainless steel pass-through to the dining room. Note the massive 32" x 32" porcelain floor tiles installed throughout.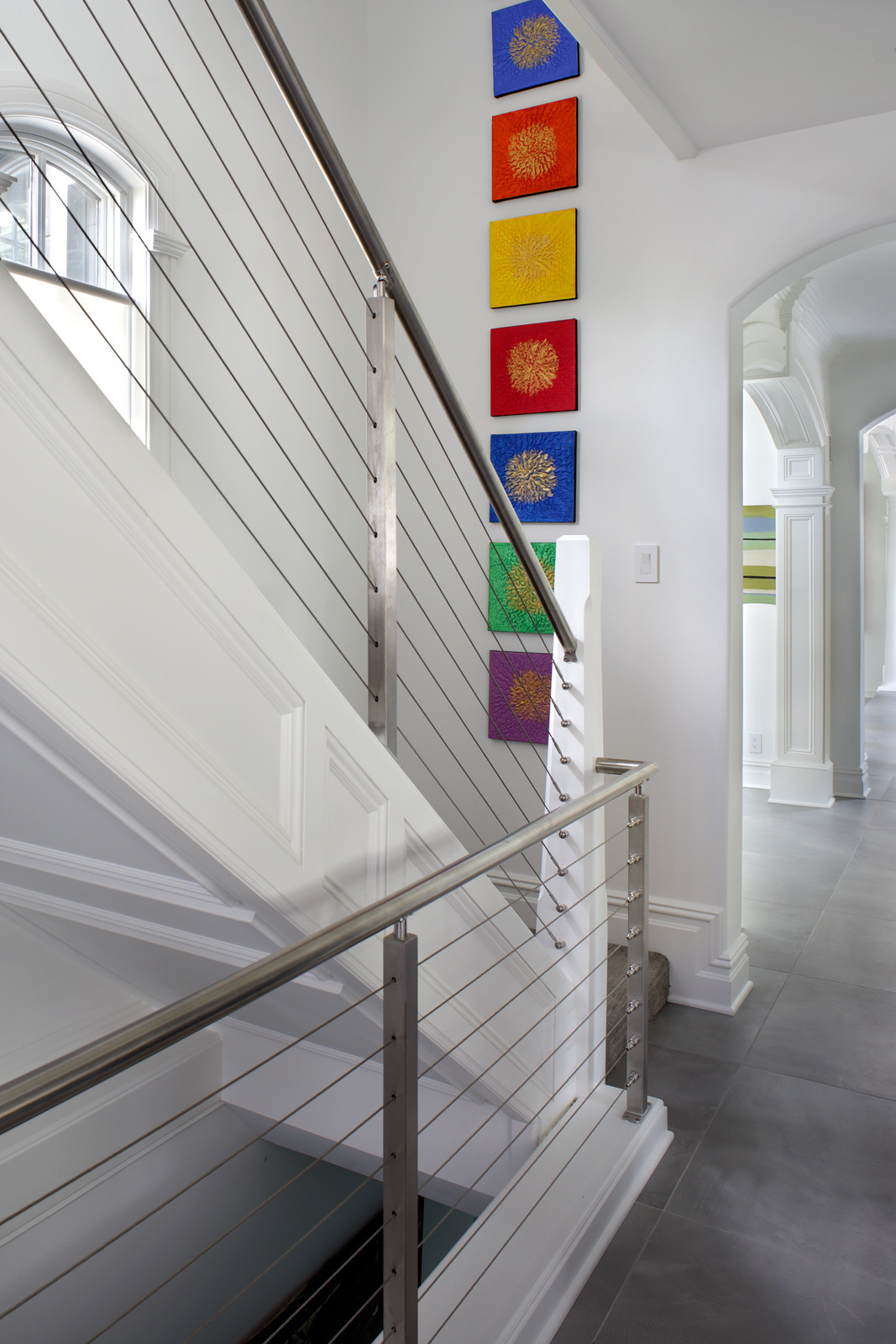 Taking the wall down between the kitchen and stairway granted us a more open feeling. The stair railing and newel posts had to match our new aesthetic. Consequently we chose this beautiful stainless steel post and cable system fabricated by Seco South. The custom minimalist newel posts were designed to offset the stainless and bridge the traditional to modern.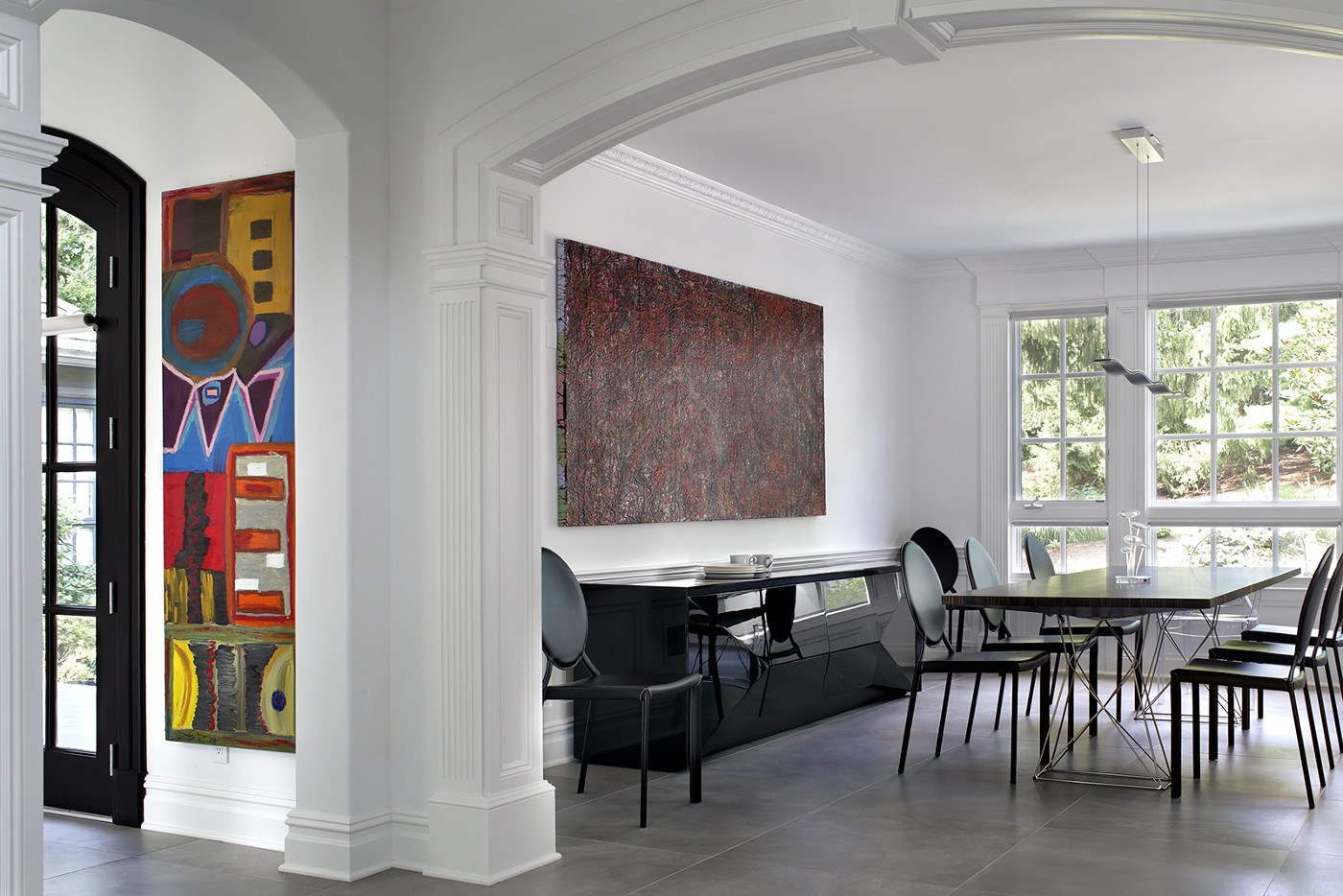 Above: A view into the light filled dining room (completed in Phase I). The client created the colorful and compelling artwork.
This minimalist half-bath is just off the kitchen. The space is void of decoration. 18" x 36" large format tiles finish the walls. Their inherent beauty is emphasized by the dramatic lighting emanating from the recessed LED wall grazer above. The low concrete vanity and stark white vessel sink add further appeal. [6/2016]