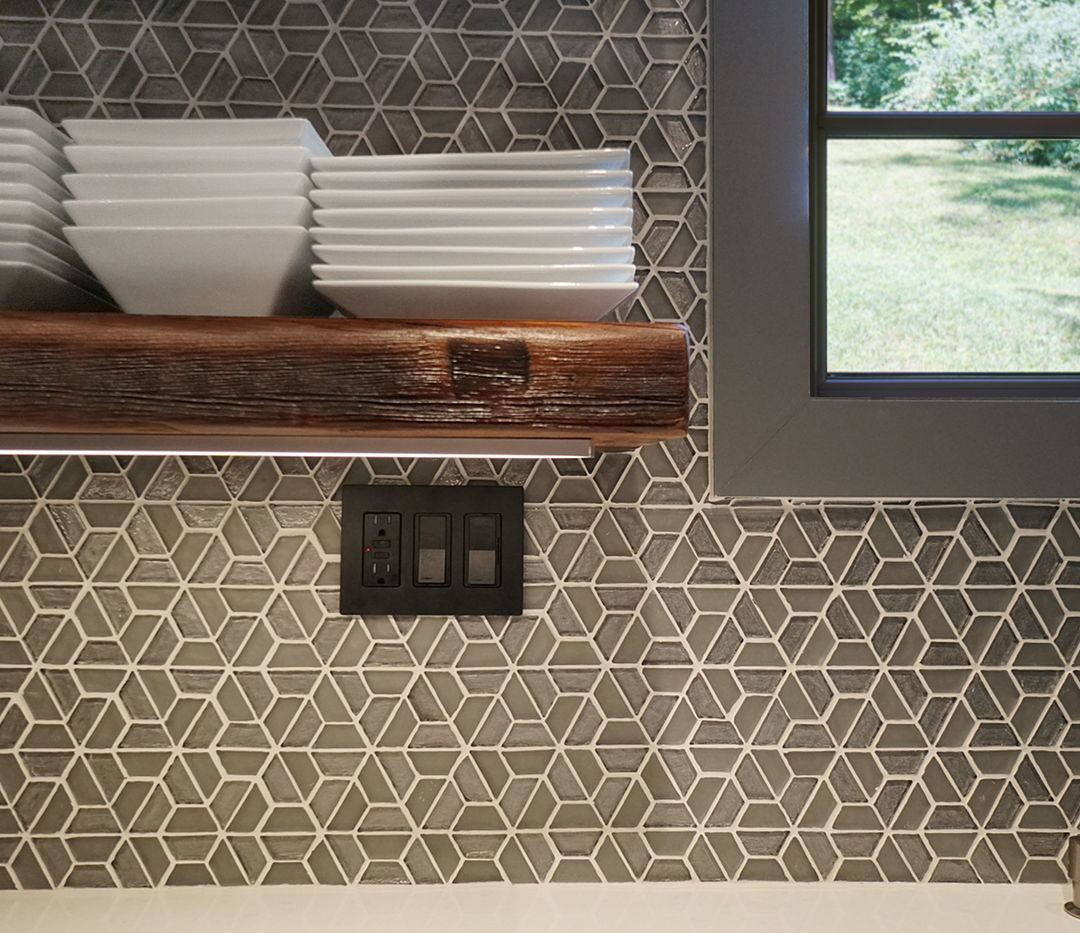 Above: Glass mosaic backsplash from Porcelanosa. Part of the Evoke Form collection shown in Silver [L241710901]. Finished with TEC Bright White 910 Power Grout. To see more photos of this kitchen click here.
Is your backsplash a feature or an ancillary element?
This is a question that you will need to ask yourself as you choose a backsplash material for your new kitchen or bath. Many designers start with the countertop selection first. My philosophy has always been to first choose the backsplash and the cabinet materials simultaneously. The countertop material doesn't impact the design so much because it is a horizontal surface (island tops are the exception to this rule). The countertop material can be figured out much later.
Think about this; the backsplash and cabinet faces will be center stage because they take up a lot of vertical real estate. One of the two should be a feature element while the other is more of a supporting finish that will allow the former to take the lead. Be very careful with the amount of feature elements that you use in your kitchen or bath. Too many features can really confuse the senses and the whole project will become background noise. If you must have more than one feature element, it will need to be well separated by non-competing finishes.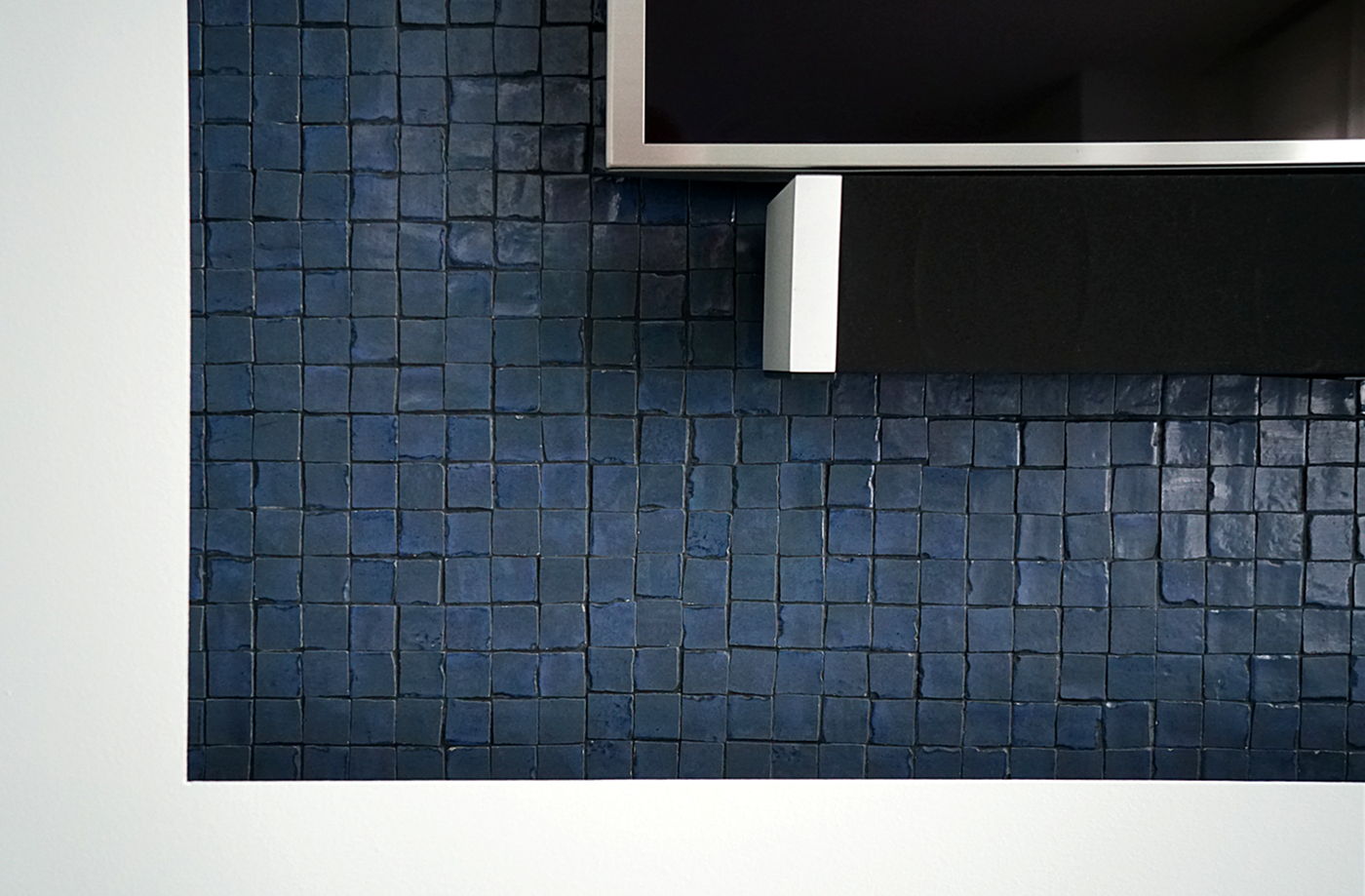 Above: Ceramic mosaic by Marca Corona 5686 Pet.Blu Tessere. Shown with Char Black H139 grout by Bostik. Click here for more photos of this project.
 Tone-on-tone
I have found, through practical experience that the most successful kitchen and bath designs embody multiple tone-on-tone elements with one feature material in the mix. These types of designs allow the different materials to work together seamlessly; one element stands out just a step ahead of all the others to take the stage. The result is often a calming and visually stunning environment that will have a lasting impact for years to come.
Above: Evolution monolithic 24" X 48" porcelain tiles from Apavisa. The color is White Natural with Bostik White H152 grout. For additional photos of this kitchen click here.
One giant note: This post does not touch on the virtually limitless backsplash material choices. Be sure to explore all of your options. Each material choice has its pros and cons. Choose wisely!
Glass panels
Acrylic panels
Brick, stone veneer or concrete
Stainless and other sheet metals
Wood
Laminate
Quartz & solid surface sheets
Porcelain, ceramic & glass tile
Stone sheet materials
Just about anything you can imagine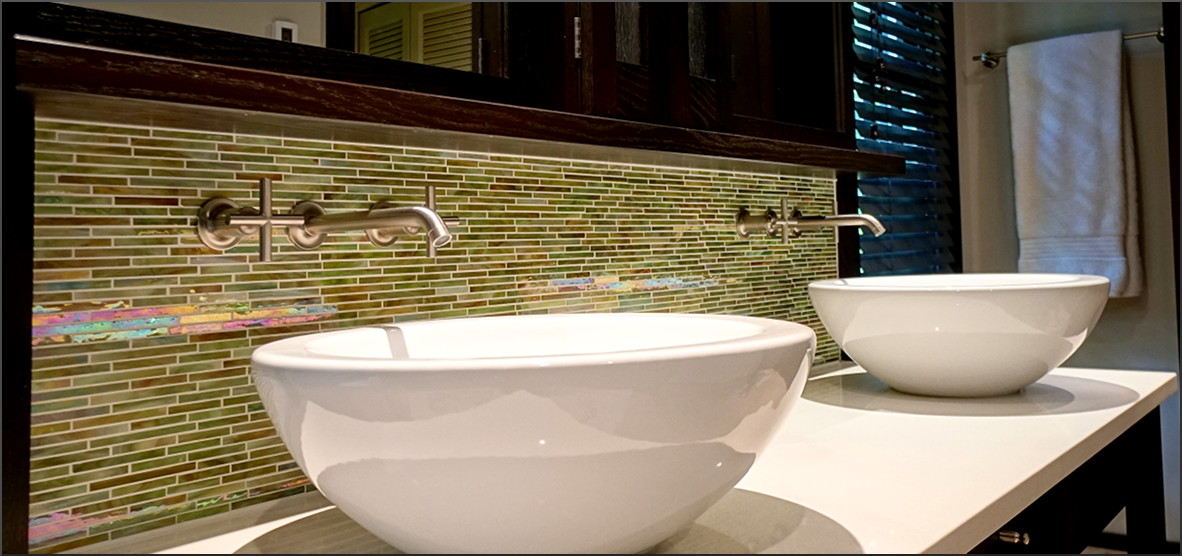 Above: Iridescent art glass mosaic mini-brick from the Gigi's Groovy Glass Collection. The color is Lime-olicious and is available through AlysEdwards. Finished with TEC Bright White 910 Power Grout.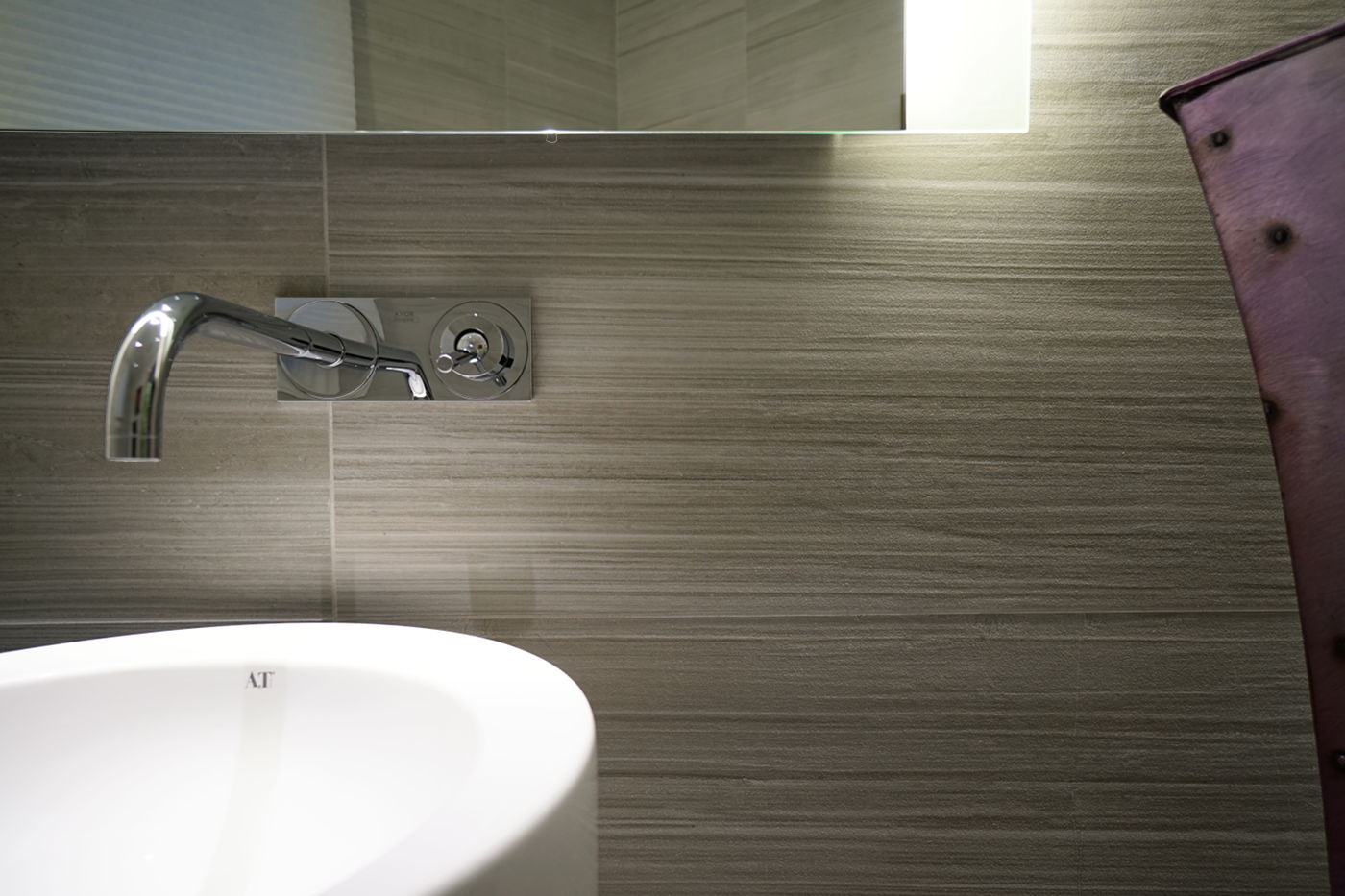 Above: Playground Paint large format tile 17-11/16" X 35-7/16" from Ergon in Berlin Grey Nat. Rett. finished with Bostik Misty Grey H144 grout. Click here for more photos of this project.
Some useful tips:
Caulk the seam between the backsplash and other materials, such as the countertop or a cabinet end wall. Use an elastomeric caulk, such as Dap's Dynaflex 230, for a long lasting seal. Bostik makes a series of caulk colors that match their grout colors. It is a good idea to caulk these joints prior to grouting.
A seamless backsplash is easy to keep clean. Grouted backsplashes require some maintenance to keep clean, as do materials with texture. Smooth monolithic glass backsplashes are amongst the easiest to maintain.
Use a mix of expensive and inexpensive materials to achieve a great look if you are working within a tight budget. The last picture in this post shows a backsplash with expensive glass mosaic combined with an inexpensive porcelain field tile.
Consider installing your outlets on the underside of the cabinets for a cleaner backsplash look.
Use aluminum Schluter edge when transitioning to other materials, or when ending your tile before the end of a wall surface. Avoid using tile battiscopa or bullnose pieces to end your tile run. Schluter edge trim is much more subtle and elegant; look at the JOLLY profile in stainless for kitchen backsplashes. Here is a blog post for further reading if you are thinking WHAT  THE  %*@#  IS  SCHLUTER?
Incorporate some efficient under cabinet LED task lighting to make counter work easy on the eyes. I love the IKEA OMLOPP or for a more custom option check out the Loox LED 3028 from Hafele.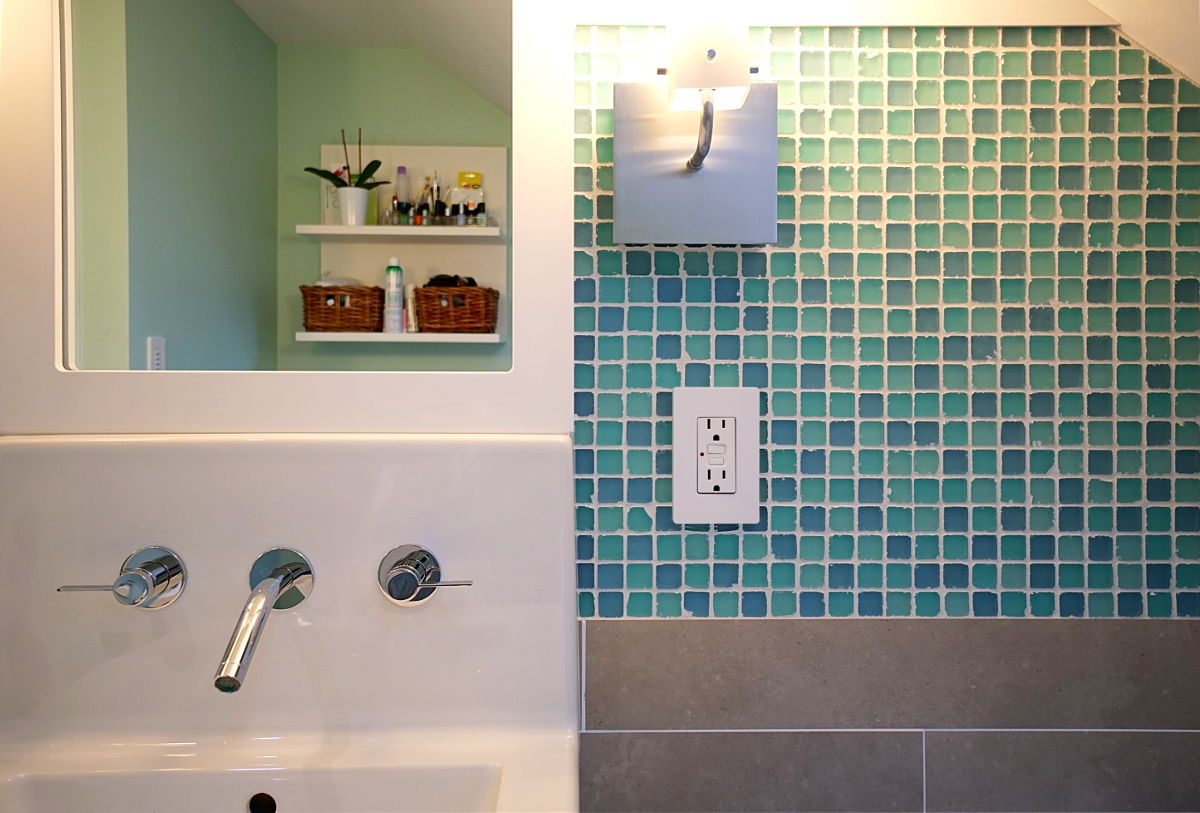 Above: Huron tumbled beach washed mixed glass mosaic tile from Original Style in green [GW-HURMOST] 1" X 1". Pietra/2 field tile in color Orte from Casa Dolce Casa 15-3/4" X 15-3/4" and 4" X 23-5/8". Finished with TEC Bright White 910 Power Grout.
Last Word
The backsplash can be one of the most compelling elements in your kitchen or bath. There are so many amazing options out there today. Visit several tile stores, and do some photo surfing on Houzz to narrow down your options. Find something that truly reflects your lifestyle and taste. If you fall in love with a particular material, don't be afraid to build the rest of your kitchen or bath design around it. Most of all don't be afraid to end up outside your comfort zone. Many of the most captivating backsplashes that I have installed began with a debate that usually involved a much less interesting option. I have never had a client come back and say they would have been happier with the safe and boring option.